Wearing of medals for which persons are not entitled is an offence under section 195 of the Army Act (1955), superceded and covered by The Armed Forces Act 2006 (Commencement No. 5) Order 2009 Made 5th May 2009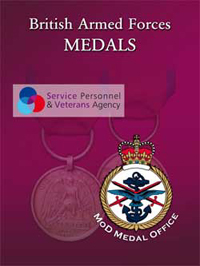 BBC News
"A man who attended a Remembrance Day parade with medals he wasn't awarded has been ordered to do community service for his deception...
Article link
You may wear the medals as next-of-kin of deceased on the right breast, by way of respect & remembrance.
'Official' medals are those for which Her Majesty, or her predecessors, has given approval. Only these medals are permissible for wear on a service uniform.
'Commemorative' medals are those which have been produced by organisations or private medal companies to commemorate particular branches of service or areas of operations. These should be worn on the opposite side to Official Medals.