1st Battalion The Queen's Regiment
England's Senior Infantry Regiment of The Line - 2nd of Foot
The Queen's Infantry Regiment traces its history back to 1661
A direct descendant of the 2nd Regiment of foot, later the Queen's Royal Regiment of the line, it took its present form and title on 31st December 1966. It was disbanded in 1992, following the amalgamation with The Hampshire Regiment, to form The PWRR.
---
Date For Your Diaries - Saturday 21st September 2024
All Battalions & Forebears Welcome
The Queen's Regiment & Forebears Annual Gathering At The Arboretum
The annual meet up (Friday/Saturday evening) and Service to pay our respects to all our fallen at the Queen's Regiment Memorial at the Arboretum on Saturday Morning. You can find the group on Facebook here » or if you are unable to access it please use our Contact Form.
A very good attendance in 2023 - The video of the Service is available to watch on YouTube »
---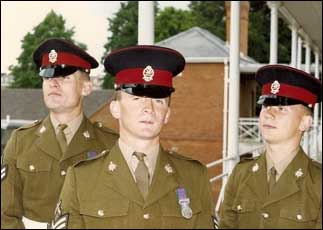 "The aim of this site is to maintain contact with fellow Queensmen, find lost friends, bring you the latest news and details of the latest Reunion and events and keep the memory of the 1st Battalion alive."
Understand the soldiers' bond... "We all feel in our later years we are missing something, hence why I am trying to get us all back together. Some of us have not seen each other for many years. The shocking thing is how many of our old muckers have passed away, and it's sad we never got to see them again before they stood down." Steve Parsons Ex 1 Queen's

Veterans Foundation - For £10 a month you could win one of 43 cash prizes - from £5,000 to £120. Every draw also includes a rollover - this month's top prize is a tax-free £35,000!
All content Copyright ©1Queens.co.uk 2019 - All rights reserved. This material may not be published, broadcast, rewritten or redistributed in any form without express permission. Use of this site signifies your agreement to the terms of use.
Wikipedia - The Queen's Regiment was an infantry regiment of the British Army formed in 1966