---
MoD Medal Entitlement
How to Obtain Your Medals (or replacement medals)
Medals are only issued by the Ministry of Defence (MoD) Medal Office and can be claimed retrospectively and by next of kin.
You can download a PDF version below (June 2015)

MoD medal application form

Replacement of lost medals form (JPA S001)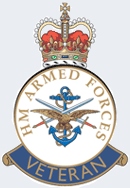 Veterans Badge

You can get an Armed Forces Veterans Badge if you've served in any of the UK armed forces - there's no fee.
You'll need to give as much information as possible, such as:

Type of service (eg army or Royal Navy)
Service number
Period of service

Fill in the application form below (June 2015)

Send the form by post, fax or email to the Ministry of Defence Medal Office - the address is on the form.



Apply for Veterans Badge

(You may also apply for one replacement using the same form, if your badge has been lost or destroyed)
---
British General / Campaign Service Medal with Northern Ireland Clasp
Introduced in 1962 to replace both 1918 and the naval general service medal.
Awarded to personnel of all services for at least 30 days peace duties between 1969 up to present day.
This medal can be engraved.
For full details of Medal Entitlements, please see the official MoD page
Ministry of Defence Medals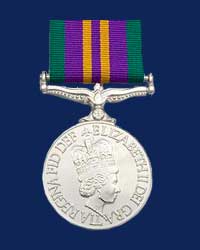 Accumulated Campaign Service Medal 2011
Issued for 1080 days aggregated service
To be awarded the ACSM 2011 an individual must hold a qualifying operational medal such as the GSM (e.g. Northern Ireland, Air Ops Iraq), an OSM (e.g. Sierra Leone or Afghanistan), the Iraq Medal or other specifically designated multinational campaign medals, have completed more than 24 months (720 days) campaign service and be serving on or after 1 Jan 08. Bars are to be awarded for each additional period of 720 days approved operational service. A month is defined as 30 days and part months may be accumulated.
Full details are laid out in ACSM 2011 DIN (2011DIN09-008), which replaces ACSM DCI Gen 65/94.
Diamond Jubilee Medal Entitlement
Those eligible to receive the medal include living holders of the Victoria Cross and George Cross and members of the Royal Household, as well as people who have been working in a number of front line public service jobs for five full calendar years on 6 February 2012.
These are:
Members of the Armed Forces;
Emergency services personnel in paid service, retained or in a voluntary capacity who face the prospect of dealing with emergencies as part of their conditions of service;
Operational prison services personnel who are regularly exposed to difficult and sometimes emergency situations; 
Police Community Support Officers (PCSOs) still in service on 6 February 2012.
(The Queen's Regiment)