---
1st Battalion The Queen's Regiment
Finding Old Mates
Please Note: We do not give out any personal, email or contact details
You are welcome to use the Guestbook and Message Board on this website if you are looking for someone, or we may be able to pass on a message. Please use the Contact Form.
---
1 Queen's Facebook Group
This is a closed group which is run by Charles Thomas.
You will have to request to join this group, which is only open to ex Queensmen. Currently over 670 ex-Queen's Members
---
Forces Reunited
There are various groups here where you can find information and friends from The Queen's Regiment.
---

1 Queen's Forum
We currently have in excess of 580 registered Queensmen.
This is a secure area of our website, which only bona fide Queensmen can access.
Once you have registered, you will be able to access all topics and categories, swap news, search for lost army mates, upload your photos (and view pics others have added) and get the latest news on the next Annual Reunion as soon as available. When registering, you will be given the option to be added to the Nominal Roil, or not. Please remember to mail us a couple of photos if you wish to be added. Click Here To Register »
---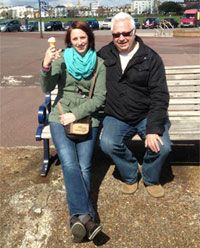 Having joined the revitalised Queen's Regimental Association last year as the 1 Queen's Branch, we are all pretty busy behind the scenes working with the Association Secretary Alasdair Goulden, providing a point of contact and helping the guys out where we can.
This ranges from putting guys back in touch with each other, to arranging a 'final' Regimental send-off.
*Among other things, we were delighted to have reunited Linda with her dad after 26 years (photo sent in by her dad), as well as others, who wish to remain anonymous.
*All enquiries are handled with tact and discretion. We do not pass on any personal information or contact details unless both parties are in agreement.